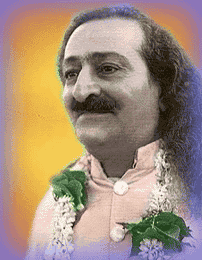 Avatar Meher Baba was born of persian parents, Sheriarji Irani and Shirin Bano at Sasoon Hospital, Pune(India) on 25th Feb. 1894. He was named Merwan Sheriar Irani. He had his education at St. Vincent School and later at Deccan College. He had quite a lot of interest in poetry and spiritual literature .
He met sufi sadguru, Hazrat Babajan in 1913, she was 113 year old then. She beckoned Merwan who was returning from his college and kissed him on the forehead and he was immediately taken into superconcious state and became God-realised. For 3 days,after this incident, he was unconscious and for 9 months he was semiconcious of his worldly surroundings. Later, he contacted Narayan Maharaj of Kedgaon and Tajuddin Baba of Nagpur.Merwan met Sai Baba,the perfect master of Shirdi in 1915, who stared into his eyes and exclaimed "Parvardigar"(The Almighty). Sai Baba then directed him to visit Upasani Maharaj of Sakori. On seeing Merwan, Upasani Maharaj threw a stone, which hit him on forehead exactly where Babajan had kissed him and thereafter, Merwan began to regain his consciousness. Upasani Maharaj used to say "I have given my key to Meher Baba, he is now the repository of my power". Thus in 1921 he became Meher Baba. Meher Baba once said "Sai Baba made me what I am, Babajan made me feel what I am and Upasani Maharaj made me know what I am".
Avatar Meher Baba opened an ashram at Poona and later at Bombay,and finally at Meherabad, Ahmednagar. Here during the earlier period,he opened a school,a hospital and a mast ashram. On 10th July 1925, Avatar Meher Baba entered his great silence, which continued uninterrupted till he dropped his physical body on 31st July 1969. For many years he conveyed his thoughts through an alphabetical board and later only through gestures. During 1925-27 he wrote a book which remains unseen and unpublished even today. Baba said that this book shall come out during his manifestation and reveal many spiritual secrets. He frequently entered into periods of seclusion and fasts, which were the occasions for his universal spiritual work. He also visited many western countries to sow the seeds of love and consciousness in the hearts of people. 16th October 1949 earmarked the end of his New Life which lasted till 31st Jan 1952.This he explained was for "MANONASH"(mind's annihilation).This was the period when Baba along with very few mandali members visited every remote corner of India and contacted MASTS(God intoxicated ones). In 1952 Baba gave a book to the humanity,"GOD SPEAKS" wherein he explained the very reason of Creation.His works like "Listen Humanity","Discourses","Life at its best " , "Beams" and messages are immortal. In 1952,Baba faced a car accident at USA. He met another accident in 1956 at Satara(India). In this accident his back and limbs were badly injured but he continued his fasts and seclusions.
After 1965 he stopped Public Darshan for reasons of doind his inner spiritual work. In Nov. 1968, Baba said he would give darshan "On His Own Terms". No one knew what those terms would be.He said that this darshan would be unparalled - it would be the last darshan given in silence,and that when he started giving darshan to his lovers it would not be for a limited period,but for all time.He also said he would give his darshan in reclining position.All these were hints that he would not be with us physically but spiritually.So it happened. At 12:15 PM on 31st Jan. 1969, Meher Baba dropped his body which was kept at the tomb at Meherabad Hill for 7 days for his lovers across the globe.Meher Baba's body was as fresh as ever,as if he was sleeping when he was interred on the 7th day. His tomb-shrine at Meherabad has become a place of pilgrimage for his lovers all over the world. Every year on his Amartithi, which falls on 31st Jan, Baba lovers from all over the world gather here to pay their homage to the AVATAR OF THIS AGE .